Brand profile: Bobo Choses
Brand name: Bobo Choses
Company name: Bobo Choses SL
Website: www.bobochoses.com
Date of creation: 2008
Country of origin: Spain
Country (ies) of production: Our garments are made locally. 98% of our SS21 collection was produced between Spain and Portugal, 80% of which has been produced no more than 12 miles away from our headquarters.
Name of owners: Adriana Esperalba – Creative Director and founder, and Pim Esperalba – CEO.
Number of employees: 36
Number of sales points: Around 500
In how many countries is the brand present: Around 32 countries including South Korea, China, Japan, Sweden, France, Germany, Italy, Spain, USA, Australia…
Own online store: Yes, you can find us on bobochoses.com
Own store (bricks and mortar): In Barcelona (Bobo Choses Barcelona Born – C/ Ribera 1, El Born, 08003 Barcelona, Spain)
Company statement or tag line: HAVE FUN!
What makes the brand unique / stand out: We create new products and services for creative children and growing-young parents around the world, who want to enjoy their lives, have fun and grow away from the monster of routine in the digital age. From fun clothes and accessories to crazy children's books that give meaning to our collections, and beautiful homeware that lifts our feet off the ground.
A quote from a client or journalist: Comments received after the official launching of the new SS21 collection:
I just want to say how much I love this new collection it's just magical
I love it all! Thank you for being amazing
The new collection is woooowws
Product categories / products names: Clothing (T-shirts, sweatshirt, dresses, outwear…), accessories (hats, bags, shoes…) and homeware (rugs, plates, cups…).
How many pieces per collection: SS21 collection For President by Bobo Choses comprises 422 references, including baby, kid, accessories, home, woman and man collection products.
Main materials used: We strive to replace conventional materials with more sustainable ones that have a lower impact on both nature and human health. We use GOTS-certified organic cotton as the primary fibre in our collections. We are increasingly incorporating more sustainable fibres such as linen, cupro, recycled polyester, and LENZING

Lyocell.
Your trade show planning for next season: Hard to tell at this time! But we used to go to Playtime Paris and Hudson Collective NYC in the US.
List of agents/distributors:
KID
Australia, Kido Agencies
Belgium and Luxembourg, Annemie Both Agencies
China Hansolo Kids
Denmark, Sneum Agency
ltaly, Rasi Showroom
United Kingdom, Vida Kids
Japan Unicom Ltd
South Korea Suhyang Networks
ADULT
France, Duofashion Agency
Japan, Almond Eye CO., LTD.
Plans for the future: To make the world a better place to live in while having lots of fun!
Name of the photographer for this collection's images: Paul Hyde
---
Bobo Choses For President SS21
Adults are having kind of a hard time making the world a better place to live in. What would children do if they were president? What would a world run by children be like? For President by Bobo Choses presents the most convincing party platform in the history of politics. We are glad to present to you For President, our new Spring Summer 2021 collection.
The SS21 collection is full of embroidered details, patches and small prints that add to the garments. T-shirts, sweatshirts and shirts. Trousers, shorts and Bermuda shorts. Dresses, skirts and tops. Playsuits and overalls. At Bobo Choses we go for unisex clothing. Garments are rather wide and comfortable and can be easily combined in multiple ways. Colours, prints and shapes are adapted for the baby collection to better suit the little ones. It is fun and easy to combine.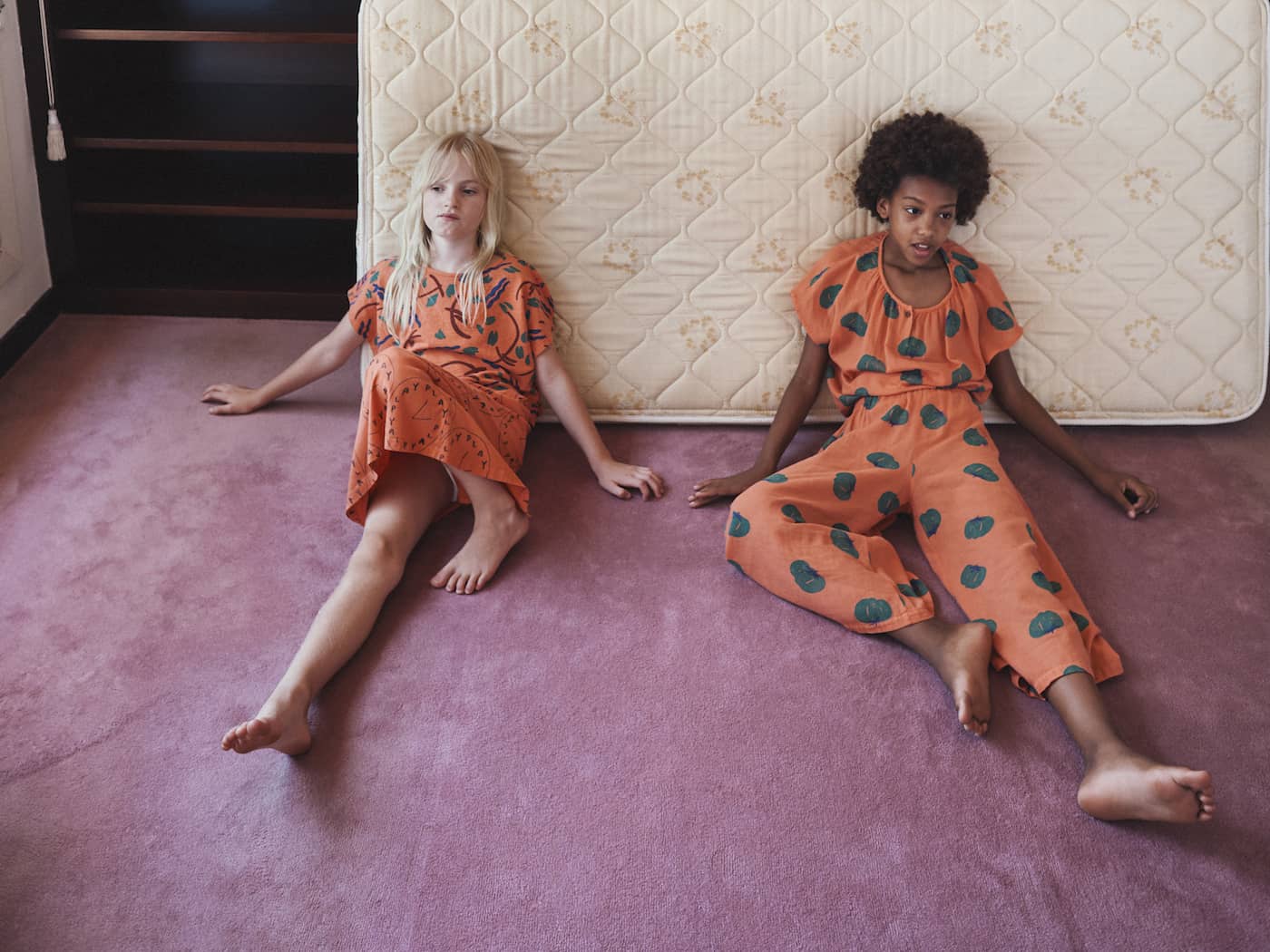 ---
Brand Profile from 2017
Published on: Mar 27, 2017
Brand name : BOBO CHOSES
Company name : BOBO CHOSES S.L
Website : www.bobochoses.com
Date of creation : 2008
Country of origin : SPAIN
Countries of production : SPAIN 95%, INDIA 5% (rugs)
Name of owners : ESPERALBA FAMILY
Number of employees : 22
Number of sales points : 400
In how many countries is the brand present : 45
On-line store : www.bobochoses.com
Company statement : HAVE FUN!
A quote from a client or journalist? : Cute, wonderful, this is fab, love it, and emoticons such as hearts, clapping hands…..
Products : t-shirts, sweathshirts, rompers, dresses, skirts, socks, shirts, shorts, jackets, hats, bags, swimsuits, baby clothes and woman collection.
Pieces per collection : 260
Main materials used : Cotton
Your trade show planning for next season : Playtime Paris, showroom in NY,
Plans for the future : Having fun doing nice clothes!
Shoot credits for the images sent : Martina Matencio
---
Bobo Choses SS17 A Legend
"In the huge sky of sports there are big stars, strong stars, fast stars so dazzled by their light they cannot see each other. But among the many stars there are a few that shine with a modest, special light of their own, caring stars, brave stars, frightened stars, and tenacious stars. It is time they become legends…" Bobo Choses
---
Bobo Choses SS17 A Legend shoot credits
Photography : Martina Matencio @lalovenenosa
Total look picture: Quim Puig
Art Direction and styling : Deborah Sfez & Adriana Esperalba
The athletes: Arnau, Bianca, Biel, Chloe, Joan, Lluc, Momo, Ririko, Stella and Teo
Bobo Choses SS17 Story book
from Pirouette https://www.pirouetteblog.com/business/company-profiles/brands/brand-profile-bobo-choses/?utm_source=rss&utm_medium=rss&utm_campaign=brand-profile-bobo-choses
via