Reading time:
5
min
Pirouette has always had a connection with Portugal, in fact Florence's post on Portuguese manufacturing remains one of Pirouette's most read posts to date.
Portugal is renowned for its quality and technical textile/ clothing production excellence. Some may say that Portuguese production is not cheap but the superb resulting product is 'proof of the pudding' or maybe pastel de nata in this case! There are ever pressing issues of how they are going to encourage the next generation into the labour force. Sustainability commitments by manufacturers are increasing and responsibility is being taken increasingly seriously. The voice of Portuguese Fashion is pushing for wider International exposure across the board from women's and men's to children's fashion.
We look at a number of Portuguese labels, manufacturers and take a moment to enjoy the Moda Portugal Kid's Fashion show taking place during Portugal Fashion Week.
Wolf & Rita HQ during SS20 production…
On a cliff looking down into the most beautiful valley resides Wolf & Rita's HQ – part of the Mefri manufacturing unit. The location is breathtaking with its panoramic views – just the vibe you'd expect from this uber cool Portuguese design lead kid's wear label. The team's showroom is warm and inviting with succulent plants nestled on the window sill absorbing the beautiful Portuguese light with their chlorophyll laden leaves.
The showroom walls tell the story of the brand from first campaign poster at their opening trade show to the newest of campaigns fresh to the eye. As a group (of visitors and journalists) we all hit upon the knitwear adorning the mini mannequin central to the collection display. There were lots admiring soft coos from us all for the AW20 knitwear samples followed by a whisper of disappointment as we realised it was 'too soon to share'! Top tip though – look out for the knitwear during the AW20 selling period as it received a collective 'thumbs up' from the group.
We chat about the successful collaboration with Maison Mangostan a Spanish shoe label they initially met at one of the trade fairs. It turns out they don't live so far from Wolf & Rita HQ – just over the border in Spain, so it's easy for them to meet up. Both bring different skill sets to the table one textile/ clothing/ production knowledge the other shoe design/ production experience. This has been a fruitful collaboration for both – not just in terms of learning and creation, but also in aiding a smooth pathway to sought after markets. Like-minded independent labels forming collaborations can be a wise strategy in this business.
After some discussion of the collection and touching on the point made earlier about the pressing issue of how the next generation of Portuguese youth are reluctant to work in textile and garment production. We discuss the positives of having skilled technicians and how a pattern cutter is actually a highly sought after and well paid position if you master your skills.
One thing I forgot to mention was the number of references Wolf and Rita have in their collection – over 160 each season. I asked the question of whether they had standard design templates for the core pieces, changing the details, collars, cuffs, etc to boost the references, but the answer was emphatically "No". In fact they start again every six months, designing a completely new collection with fresh patterns… 'This is why they have need of such a fancy, all signing all dancing pattern printer bigger than my dining table' I think to myself.
Time for the tour of Wolf & Rita SS20 production in all its beauty. I walk around quietly saying 'Bon Dia, Bon Dia' to everyone but I'm a little conscious of distracting the workers when the machines are in full motion. Everyone has their roll from pressing to cutting. The colours are bold and bright with the wonderful bespoke textiles for the collection produced just ten minutes down the road. Deep blue indigo denim catches my eye 'like Japanese denim!' I say… 'yes but Portuguese' I'm answered quickly with a smile and a slight wink.
Unfortunately in a blink of the eye it seems time is up and we have to leave for our second destination. However there is just about time to grab some Wolf & Rita hats for a quick selfie and a group photo to document this most beautiful of settings. As we make our way out I think about how this internationally established and creative label from Portugal has a number one market of Japan. They are sold all over the world but somehow remain less well known on home soil. Perhaps the time might just be right for buyers in Portugal to take note?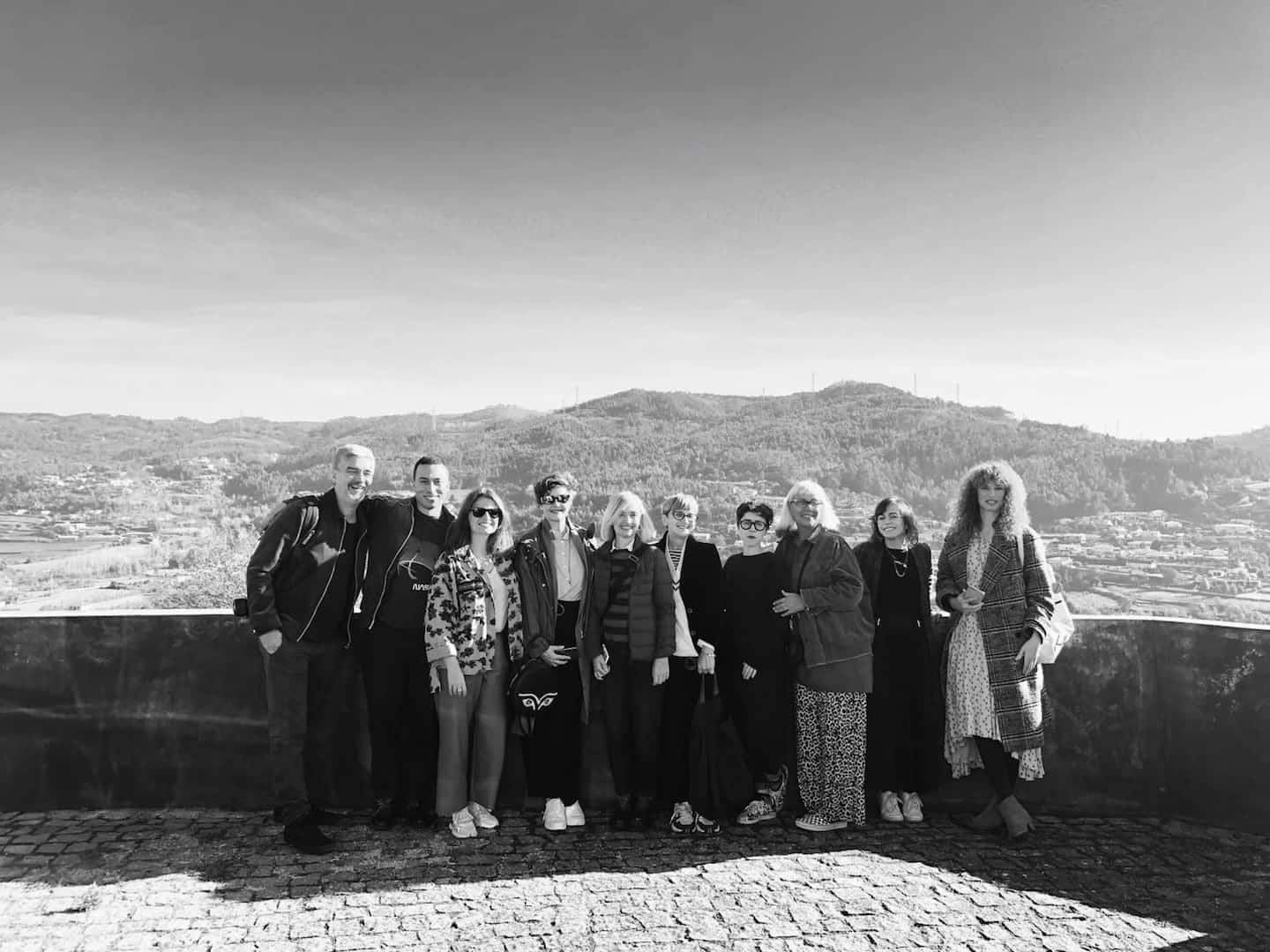 Editors Notes: Look out for that super Wolf & Rita AW20 Knitwear at the trade shows January – February 2020
---
Moda Portugal
http://www.modaportugal.pt/
Wolf & Rita
https://www.wolfandrita.com/
Mefri manufacturing
http://www.modaportugal.pt/
Part 2 of 4: Pureté Du Bebe and Madicor – coming soon …
from Pirouette https://www.pirouetteblog.com/business/pirouette-focus-portugal-fashion-part-1-of-4/
via
IFTTT